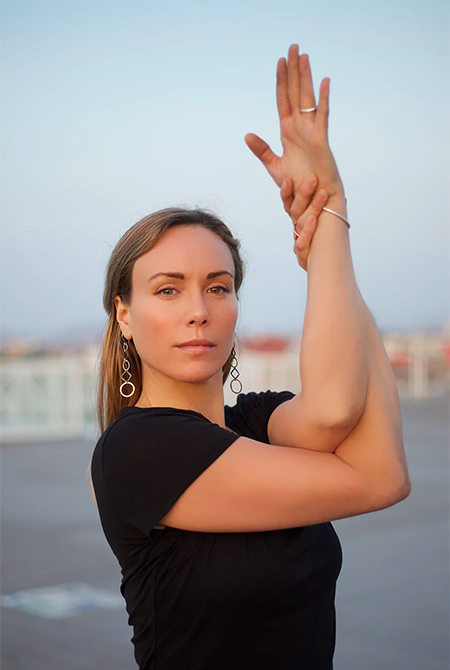 Rae has studied and practiced yoga and yogic philosophy since the age of 3.  Growing up with a father who practiced Hatha yoga, she studied yogic text and practices from a very early age.
Her work is dedicated to improving the abilities and health of modern people with efficient and effective technologies.  Rae has been teaching Yoga, Yoga teacher Trainings, Yoga Therapy and for 20 years, the foundation of these practices she learned from her teacher, Dr. Ranjani Cobo an adept yogi, and medical doctor.
Rae founded the World Yoga Institute and United Yoga.  She teaches internationally, offering certifications and in-depth immersion courses.   She has designed yoga content for doctors, NBA, UFC, US Military,  and physical therapist offering the key system that unite healing modalities.  She has studied Thai Massage, Jiu Jitsu, Wing Tzun, Kempo, Muy Thai, Kundalini Yoga, Meditation, Zen Meditation, Pranayama and Yoga Asana.
She teaches the full spectrum of yoga styles, and instructs her teachers in how to create yoga poses and yoga sequences for any person or population.  Her certifications have a high standard, and her students have clarity and knowledge of the full system of yogic practices.
Rae Indigo leads teacher trainings & immersions in South America (Peru, Chile, Colombia), Mexico, USA, Bali, Thailand, Sweden and other parts of Europe.
Homepage 2020-002